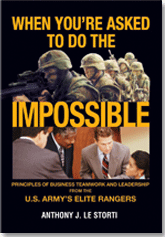 Published by
The Lyons Press
www.LyonsPress.com
ISBN: 1-59228-171-0
Retail: $19.95
Available: Barnes & Noble,
Borders, and other fine
bookstores
Also on the Web at:
Amazon.com,
BarnesandNoble.com and
Borders.com

CURRENT CASE STUDY
Visualize, Describe, Direct
"Alex Gorsky graduated from Ranger School while still a cadet at West Point. After leaving military service, he signed on with Janssen Pharmaceutica, a Johnson & Johnson company. Taking on one tough assignment after another, he rose through the ranks to become
Janssen's president. Meanwhile, Janssen was growing from $100 million to $3 billion in annual revenue and gaining a reputation for its forward-leaning stance in pharmaceutical development. When asked about leadership, Alex said that the first essential aspect is having
a vision, being able to "see through the fog and clearly articulate what is the mission." One must "distill from the complex,…simple clarifying thoughts that rally people. Secondly, it is the ability to put one and one together to get three with people—that ability to motivate, to challenge, to inspire others to do more than they think they can do on their own."
This response mirrors the U.S. Army's formula for battle commanders: Visualize, Describe, Direct. This approach provides good guidance for leaders of high stakes teams and for leaders in general. It succinctly captures the key elements of leadership, and it applies to both long-term, relatively smooth change initiatives and intense, stressful high stakes challenges." [Page 179]
ABOUT THE AUTHOR
Anthony J. Le Storti began his professional career as a U.S. Army Airborne Ranger and was decorated for his service in Vietnam. He has served as the director of a federal project in gifted education and as an assistant professor/director of a center for the study of creativity. Currently, he is a founding partner of IDEATECTS, a management
consultant firm specializing in creativity and leadership development. He brings over 30 years experience in studying leadership and human dynamics to the writing of When You're Asked to Do the Impossible.
SELECTED ENDORSEMENTS
"Tony Le Storti does the impossible himself by applying the vast knowledge and wisdom he gained as an elite Ranger to the difficult complexities faced in civilian organizations as they strive to achieve competitive advantage. This is a must book for all who are interested in help with the challenge of keeping their organizations vital."
David Tanner, Ph.D., Founding Director, DuPont Center for Creativity & Innovation
"Don't be fooled by the title. This rich source of ideas and sound principles is all about how to make things possible, how to make what you want happen. Anthony Le Storti brings together a rare mix of business, strategy, innovation and leadership experience. If you are looking for inspiration, tools and great examples from all walks of life, read this book!"
Ann Herrmann-Nehdi, CEO Herrmann International
"When You're Asked to Do the Impossible takes what makes Army Ranger units successful and applies their principles and maxims to the corporate world. Business leaders operating in today's uncertain, chaotic, and competitive environment should integrate these winning individual and team battleproven, leadership techniques in their organizations—and win."
Maj. Gen. David Grange, USA (Ret.) COO, Robert McCormick Tribune Foundation, CNN Military Analyst
"This book contains unique insights relating the leadership and motivational skills of the Army's elite Rangers to today's business challenges. If you have the opportunity to lead at any level, this work can help you meet the challenge."
Frank W. Hatch, Ph.D.,
Vice President, R&D Labs, McNeil Consumer and Specialty Pharmaceuticals